IN MEMORIAM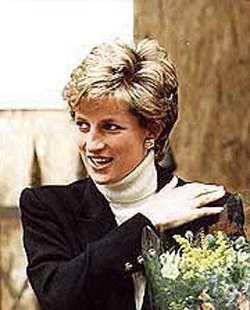 1st July 1961 - 31st August 1997
DIANA - THE PEOPLE'S PRINCESS
There is no shame in the tears we shed
to say goodbye in mourning we are led.
The Nation queued for hours to pay their respects
all she did for the needy we will never forget.
The bouquets lay in rivers at Palace's gates
but our Princess Diana at Heaven's door waits.
Her coffin in Royal Standard flag is swaithed
from the Abbey to home in rest to be lay'd.
In her life she gave with so much love
we wish for her soul now to soar like a dove. And now the time has come to say goodbye
candles will burn out, no tears left to cry.
It is through our children your memory will live on
Sleep well Diana, Princess of our Hearts.
(written by Christina Willis 6/9/97 whilst watching the funeral)




My wife has expressed the feelings of the whole family far better than I could even dream of doing. The world is, and hopefully will always be, a far better place because of your compassion and beauty. You will always be in our hearts and in our minds. We will never forget you.

John Willis (for the family) - 10/9/97




DIANA, PRINCESS OF WALES

"THE PEOPLE'S PRINCESS"

GOD BLESS YOU - REST IN PEACE




---